Altmoor Deutsch-Drahthaars, E-Collars, and Dog Training Supplies
SHIPPING NOTICE
Normal order processing time can be up to 5 to 7 business days, regardless of shipping level.
In addition to making available to the serious hunter Deutsch-Drahthaar puppies (see our Deutsch-Drahthaar site) that are second to none world-wide, as well as "The Drahthaar Puppy Manual" (which we authored), we are pleased to offer some of basic tools for the versatile gun dog owner, with emphasis on the new or first-time owner. Because of market competition, we have greatly reduced the variety of items we carry.
We are a husband/wife owned and operated business with a combined background of four decades in law enforcement, are lifelong dog enthusiasts, and are certified as dog test judges by Germany's versatile dog association (JGHV). Dogs, namely our Deutsch-Drahthaars, are our best friends. Seeing to it that you have a positive internet and successful training experience is our highest priority. We are large enough to provide you with exceptional service and to have earned the respect of the manufacturers we represent, and yet small enough that we can provide the kind of one-on-one service that today is often becoming just a memory.
Garmin and Dogtra - ask any e-collar professional trainer which are the most repected brands and 99 times out of 100, Garmin and Dotgra are the responses you'll hear. After a number of years of offering every other major brand, they are the only brands we continue to represent, because dogs, their owners, and product qualilty and durability are our priorities. Competition has now forced us to to only accept orders for Garmin Alpha systems.
See what our customers have to say :· :·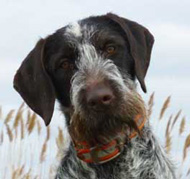 Site Supervision by Cara